California Safe Driver
Online Modules
Most California courts, police and probation departments require you to enroll into either the Alive at 25 four-hour course or "ADoD" / Attitudinal Dynamics of Driving which includes two classes.
Please call us if you need assistance.
Please read the information below before enrolling into one of these online courses.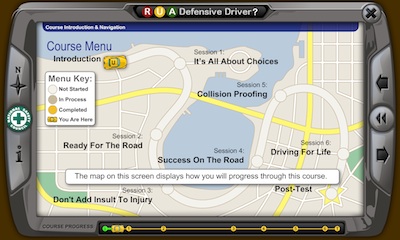 Due to the Covid-19 emergency, Cobert Safety Professionals LLC is currently utilizing National Safety Council Defensive Driving online courses as a substitute for Alive at 25 and ADoD / Attitudinal Dynamics of Driving. These online courses are highly interactive. They present real-life driving situations, hazard recognition scenarios, and defensive driving techniques to motivate drivers to change risky driving habits and behaviors to help them avoid collisions and traffic violations.
If you received a flyer from a court or police department referring you to ddconline.californiasafedriver.com, than you have been approved to take these courses in place of the in-person Alive at 25 or ADoD Class.
IF YOU WEREN'T DIRECTLY REFERRED TO DDCONLINE.CALIFORNIASAFEDRIVER.COM, AND ARE LOOKING FOR AN ONLINE OPTION, PLEASE CONFIRM WITH YOUR REFERRING COURT OR AGENCY TO MAKE SURE THAT THEY WILL ACCEPT THESE COURSES.
Certificate of Completion
Once you have successfully completed your online course(s) you will be able to immediately print your certificate of completion. Please refer to your court instructions on how to present your certificate(s) to the court or police department that referred your course. If you do not have access to a computer printer, email us for assistance at info@cobertsafetyprofessionals.com and provide us with your full name, date of birth, phone number and address. Please note that certificates can take up to one full week to receive due to processing and mail delivery times.
The online ADoD Course has two classes that you will have to complete. Each class has its own separate certificate that you will have to print and return to the court or referring agency. This is your responsibility, we do not provide courts or police departments with your certificates of completion.
Forgot your password or login?
(Your zip code should be your password.) If you have forgotten your username and/or password, please email us at info@cobertsafetyprofessionals.com and provide us with:
Your name
Date of birth
Phone number
Name of the class that you need to complete (Alive at 25 or ADoD)
Defensive Driving Course "DDC" Online
DDC online course based on the same content used in the National Safety Council instructor-led DDC Alive at 25 and "ADoD" / Attitudinal Dynamics of Driving. Through animation, narration, video and interactive exercises, this online defensive driving course offers an engaging, interactive learning environment where students analyze real driving situations, spot driving hazards, and identify the correct defenses. This is a fun and effective course.
What you will learn
Defensive driving strategies and techniques to reduce the chance of collision
How drugs, alcohol, physical conditions and emotions affect driving decisions
How to deal with driver distractions and fatigue
Physical forces of a collision
The importance of occupant safety devices and how to use them correctly
More than 2 million people
have taken the DDC Online course!